On-Demand Webinar
Reducing EV Battery Testing by 70%: How AI Solves 3 Key Obstacles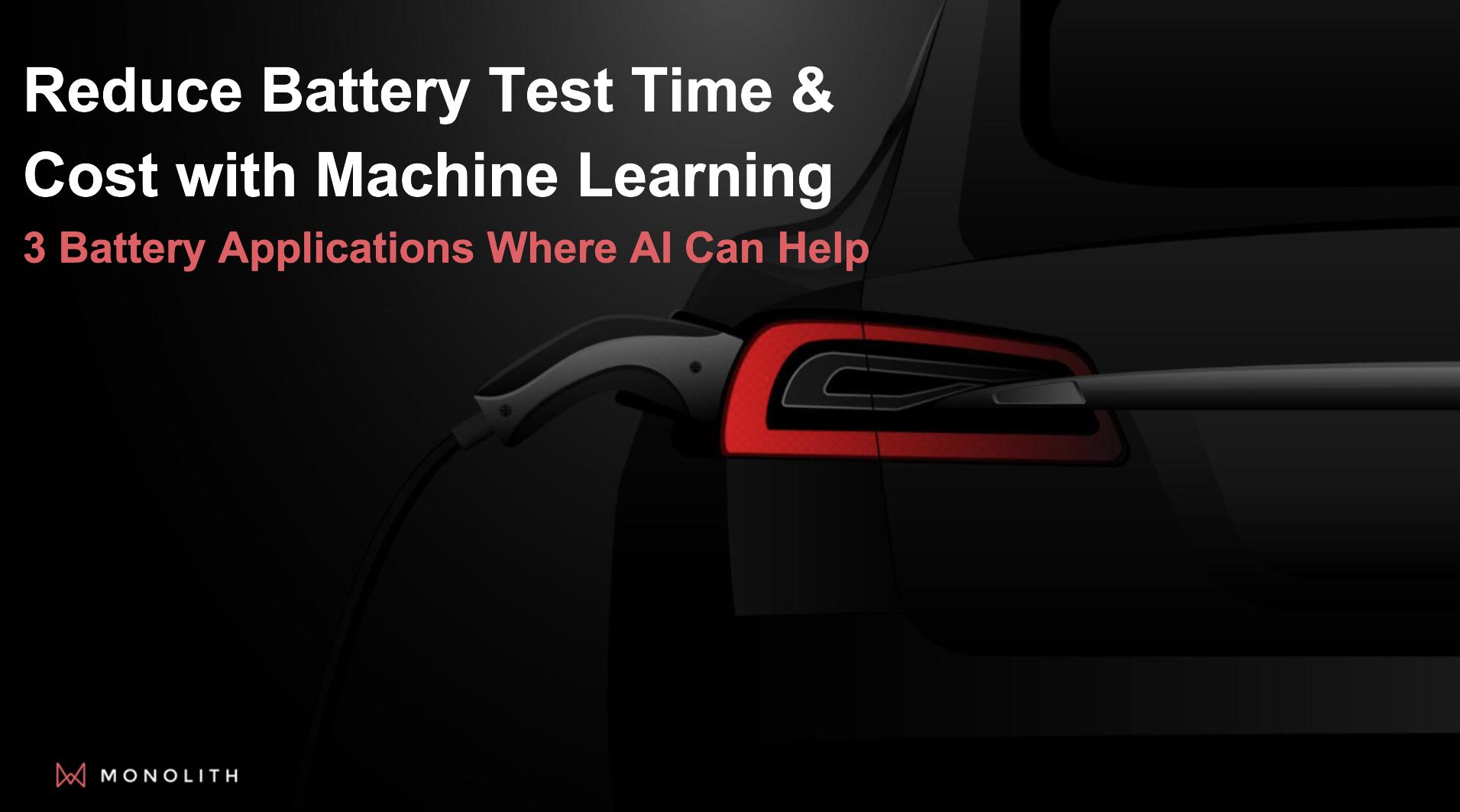 In the fast-paced electric vehicle (EV) market, testing batteries has become a significant bottleneck, hindering the timely launch of EVs. The escalating demand and intense competitive pressure to enhance the range and charging times compound this challenge exponentially.
Real-world data from a study conducted by Toyota, MIT, and Stanford demonstrates that AI can reduce testing efforts by a remarkable 98%. (Source)
Monolith CEO Dr. Richard Alhfeld will explain and demonstrate how you can achieve these same results.
Additionally, during the session, Dr. Ahlfeld will discuss how 3 major challenges faced by EV manufacturers can be strategically solved with AI:
Early Stopping of Tests

: Predicting battery failure after a certain number of cycles for efficient testing

Lifetime Prediction of Batteries

: Ensuring optimal performance and reliability by accurately estimating battery lifetimes

AI-recommended Test Planning

: AI-based models act as a "next test recommender" to identify the tests that provide maximum information gain with human-in-the-loop oversight
Learning Objectives:
Understand the impact of AI on EV product development.
Learn how to leverage AI for quicker identification of battery failure and precise estimation of battery lifetime.
Gain insights into developing an AI-powered test plan, optimising the number of tests required, and improving overall battery analytics.
Understand how ML can enhance decision-making and advance battery product development.
Learn how AI can help you make efficient use of limited test stands.


Who Should Attend:
R&D and engineering leaders involved in EV battery product validation and certification.
Business leaders who want to learn about the latest trends of AI in the EV market.
Test engineers who want to learn how to use AI to predict the critical tests to run and redundant tests to avoid.


If you are unable to attend the live session, we would still encourage you to register to receive the webinar recording.