Use Case
Test plan optimisation
Maximise learning with each new test.
Test too much and you waste time confirming what you already know. Test too little and risk missing performance issues. Your schedule, the product's quality, and ultimately your career depends on finding the balance.
New Feature
Next Test Recommender (NTR): AI-Powered Test Plan Optimisation
Learn how our AI software's latest feature enables users to train and assess machine learning models. It offers valuable recommendations for optimal test conditions to apply in the next round of testing. NTR assesses previously gathered data to suggest the most effective new tests to conduct.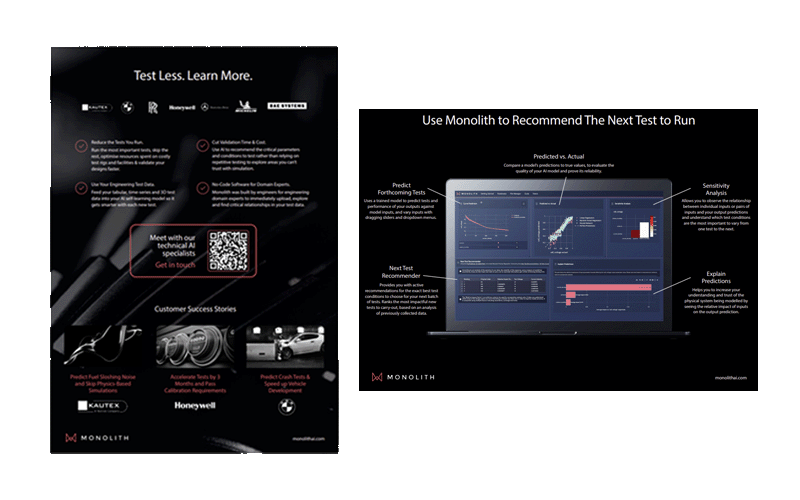 No code software
AI built by engineers for engineers
Avoid wasted tests due to faulty data
Build just the right test plan - no more, no less
Understand what drives product performance and failure
Calibrate non-linear systems for any condition
Problem:
Trusting test data
It's vital to understand that testing every possible scenario is not feasible. Over-testing confirms what's already known, while under-testing risks failing certification or missing issues. To optimize testing efforts, identify critical performance components and prioritize tests accordingly.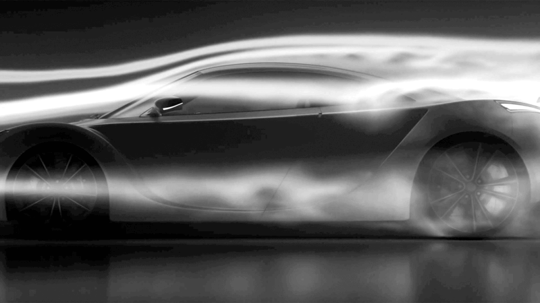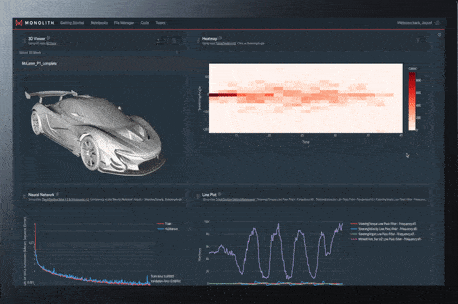 How we solve it

:
Revolutionised testing
Using self-learning models that get smarter with every test, Monolith identifies the input parameters, conditions, and ranges that most impact product performance so you do less testing, more learning, and get to market faster.
Identify an AI use case
3 ways to identify good AI use cases in engineering
Learn how you and your team of engineers can unlock the full potential of AI and transform your product development workflows, ultimately leading to greater success in an increasingly competitive marketplace.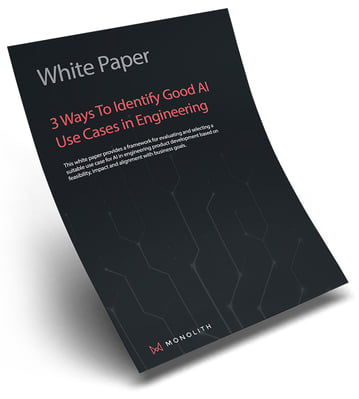 Kautex-Textron webinar
Kautex engineers reduced physical tank testing with AI
Problem: Vehicle acoustics
Methods tried: CFD, physics-based simulation
Solution: Predict noise, reduce testing with self-learning models
A commissioned study conducted by Forrester Consulting on behalf of Monolith
The State of AI in Engineering



First-ever study on AI in product development surveys US and European automotive, aerospace and industrial engineering leaders.